The Boot Room (Issue 12) visits Burnley FC's academy to interview a selection of U10s and U11s soccer players about what they enjoyed the most about coaching sessions and if they were the coach for the night what would they do? …
… plus Burnley FC Lead Foundation Phase coach, Lee Waddington, talks about "The coach's perspective".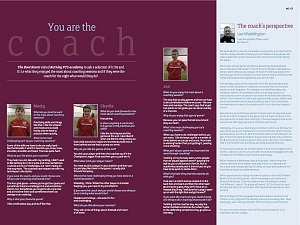 Lee Waddington has worked with some of the worlds' top soccer clubs, including Manchester United, Manchester City, and Blackburn Rovers. According to English football's governing body, the Football Association, he is a "Master Coach." Waddington has been a consultant to numerous leading soccer clubs and academies in both the professional and private sector in the United Kingdom, USA, Australia, Canada, and across Europe. He is also the founder of The Pre Academy (http://www.thepreacademy.com), a successful soccer learning and coaching company, and CEO of The Future Game (http://thefuturegame.co.uk), a coach empowerment and transformation company.
For more information on The Boot Room and The Football Association (FA) visit:
http://www.thefa.com/st-georges-park/discover/coaching/licensed-coaches-club/boot-room-digital-archive
http://www.somersetfa.com/news/2015/apr/players-take-centre-stage-in-issue-12-of-the-bootroom