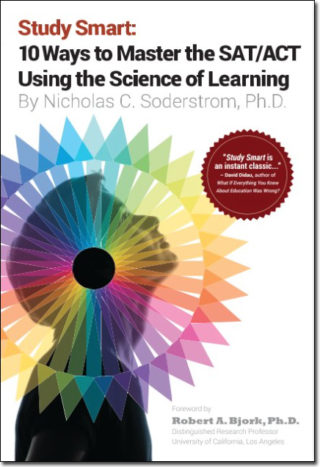 Study Smart:
10 Ways to Master the SAT/ACT Using the Science of Learning
By Nicholas C. Soderstrom, Ph.D.
Paperback: 192 pages
Publisher: Lasting Learning Press
First Edition: May, 2016
ISBN-978-0-9976280-0-5
Size: 6 x 9 inches
Study Smart will show you in clear, simple terms how you can use breakthroughs from the science of learning to study smarter for the SAT/ACT—or anything else for that matter. Backed by decades of research from university learning labs, the techniques in Study Smart are surprising, counter-intuitive, and best of all, have been demonstrated to really work. Study Smart will help you learn the fundamentals of how to study for the SAT/ACT and change the way you study forever.
About the Book
There's nothing easy about the SAT. Hours of sitting. Hundreds of questions. And it seems like your entire future is riding on it. If you are looking for a sneaky way to game the SAT/ACT, keep looking. This book won't help. You won't find a strategy to guess the order of multiple-choice questions. There's not a practice problem in sight. But if you are looking for a book that will help you learn the fundamentals of how to study for the SAT (and just about anything else you'll ever need to learn) this is the book for you. In clear, simple terms, Study Smart will explain breakthroughs from the science of learning—and how you can use them—that will change the way you study forever. In Study Smart, you'll find techniques that make sense, techniques that baffle you, and techniques that contradict everything you've ever heard about how to study. You'll discover that cramming for a test doesn't work, but that breaking your study periods into shorter periods spread across the week will. You'll get advice about where to study and why mixing up the places you study can improve your scores. You'll discover which popular visualization technique won't work, but you'll also learn about a little known visualization method that does. You'll learn why taking tests, even before you start studying, is an incredibly powerful way to learn. The simple, actionable study techniques discussed is Study Smart can be used by anyone, and you don't have to use them all to start showing improvements. So grab the book and let's Study Smart!
About the Author
Nicholas Soderstrom, Ph.D., is an Assistant Professor of Psychology at Dickinson College, which is located in Carlisle, Pennsylvania. He received his doctorate degree in Cognitive Psychology from Colorado State University, where he was mentored by Drs. David McCabe and Matthew Rhodes, and completed a postdoctoral fellowship at the University of California, Los Angeles, where he was advised by Drs. Robert and Elizabeth Bjork. Dr. Soderstrom teaches classes in human cognition and has active lines of research in the areas of human learning, memory, and metacognition (i.e., thinking about thinking). He is interested in how people learn vs. how people think they learn, and is deeply committed to applying the science of learning to enhance the educational practices of both instructors and students. His scholarship has been published in a number of the top peer-reviewed journals in his discipline, including Journal of Educational Psychology; Journal of Experimental Psychology: General; Journal of Experimental Psychology: Learning, Memory, and Cognition; Journal of Memory and Language; Perspectives on Psychological Science; and Psychological Science. Dr. Soderstrom has been recognized for his excellence in both teaching and research.

"Study Smart is an instant classic: simple, accessible and packed to the gunnels with the best cognitive psychology has discovered about how we learn and remember. If all students, teachers and parents knew and understood the straightforward but counterintuitive strategies contained in this entertainingly-written little book, we might just herald in a learning revolution. Highly recommended."  
— David Didau, author of What If Everything You Knew About Education Was Wrong? 
"In Study Smart, Soderstrom has delivered a tight, witty, and precise guide to studying that makes accessible a century's worth of authoritative, if often arcane, research. It's the kind of book that is more than useful; it keeps you company. I wish I'd had that company in some of my lonelier moments preparing for the SAT and other intimidating tests."
— Benedict Carey, author of How We Learn
"A great test prep book that gives you immediately useful insights based on sound science. This book will not only help you master the SAT/ACT—it will also help improve all of your learning." 
— Barbara Oakley, Ph.D, author of A Mind for Numbers and co-instructor of Learning How to Learn. the world's most popular online course
"Students believe that their scores on standardized tests are relatively fixed, but their performance can be improved via the evidence-based study strategies explained so well in this book. The strategies can also be used for learning more broadly, too." 
— Henry L. Roediger, III, Ph.D., James S. McDonnell Distinguished University Professor of Psychology at Washington University in St. Louis and co-author of Make it Stick
"Dr. Soderstrom has written a marvelous book, Study Smart, which reviews the approaches to learning that show the most promise toward the development of an ideal training program for mastering challenges, such as the SAT and ACT. The book is one of the most readable efforts I have come across in my 40 years of work in various learning domains."
— Francis J. Pirozzolo, Ph.D., former Chief of the Neuropsychology Service at the Baylor College of Medicine and founding editor of Developmental Neuropsychology
"Study Smart brings the science of learning out of the lab and into the hands of parents and students. I wouldn't want to face the gauntlet of standardized tests that students do without these techniques in hand. Too often studying harder is mistaken for studying smarter. Study Smart guides students to use their time more productively by revealing scientifically-validated but unintuitive methods for enhancing learning, memory, and understanding." 
— Aaron S. Benjamin, Ph.D., Professor of Psychology at the University of Illinois at Urbana-Champaign
"This book can help make motivated students more efficient learners. The often unintuitive learning strategies that take center stage in Study Smart are presented in a very accessible form, and thus this book can help students of all ages learn how to learn. Study Smart lays the groundwork for applying the science of learning to enhance the entire learning process." 
— Alan D. Castel, Ph.D., Associate Professor of Psychology at the University of California, Los Angeles
"Easy to read and easy to use, this book will prove an indispensable guide for students preparing for the SAT/ACT and for students seeking to maximize their GPA while minimizing their study time." 
— Daniel T. Willingham, Ph.D., Professor of Psychology at the University of Virginia and author of Raising Kids Who Read
"Anchored by the science of learning, this book provides an admirably accessible and cutting-edge guide for how students can effectively study for the SAT/ACT. An invaluable bonus is that these techniques will help learners navigate learning challenges at any level to make learning stick." 
— Mark McDaniel, Ph.D., Professor of Psychology at Washington University in St. Louis and co-author of Make It Stick
"Your brain is a learning machine, and as with any machine, it helps to have an instruction manual. Soderstrom has given us exactly that, in the form of this simple, powerful, and useful set of rules and tips that will benefit students, teachers, and parents alike." 
— Daniel Coyle, author of The Talent Code and The Little Book of Talent